0.2 micron pleated Ptfe PP cartridge filter for filter Housing with 226/222 Flat/Fin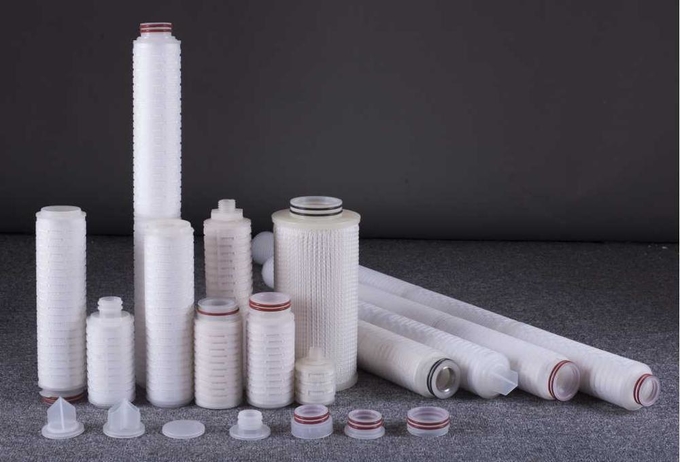 Product Description
Basic Parameters
Length:5"/10"/20"/30"/40"
Filter Media:PTFE membrane (PP, Nylon, PES, PVDF membrane option)
Micron Rate:0.2 micron, 0.45micron (and more as required)
End Cap:DOE,222+Fin,222+Flat,226+Fin,226+Flat
ID:30mm
OD:68mm
Gasket/O ring material:Silicon/EPDM/NBR/Viton/PTFE
Main Features
Excellent performance of high temperature resistance,repeat steam ability in situation
Has hydrophobic and hydrophilic membrane
Low pressure drop,high flow rate,long service life
Non fiber-releasing

Technical Data
effective filtration area:≥0.72m²(10 inch)
max.working pressure difference: 0.42Mpa at 25℃
max.back pressure difference: 0.35Mpa at 25℃
max. working temperature:80℃ at 0.173Mpa
sterilizing temperature:121℃, 30mins
water(air)flow rate:refer to following chart
Typical Applications
Pharmaceutical industry: medicine liquid, cell debris, biological products filtration.
Chemical industry: Organic solvents, chemical reagents, ink, plating solution filtration.
Food industry: Drinking water, mineral water, soft drinks, beer, red wine, fruit wine filtration.
Electronics industry: pre filtration of reverse osmosis water system, deionized water system.
Air filtration: fermentation tank, vent filter of hold tank,ultrapure gas filtration.